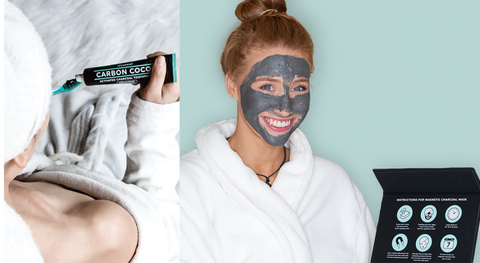 Product Spotlight: The Carbon Coco Stay Home Pack
Treat yourself to the ultimate in self care with our Stay Home Pack! This all-rounder has your smile and skin covered.
Our Stay Home Pack includes our Activated Charcoal Magnetic Mask, plus our world famous Ultimate Carbon Kit which comes with our Tooth Polish, Toothpaste and Bamboo Bristle Toothbrush. 
Get your pamper on with our Magnetic Charcoal Mask; that's right- you heard magnetic! It sounds wild, but it is SUPER fun and effective! Our Magnetic Charcoal Mask effectively soothes and cleanses your skin, drawing out impurities and leaving you feeling luxuriously fresh with the help of all natural essential oils and organic activated charcoal.
To use the mask, simply apply to clean skin using the applicator wand. Leave the mask on while you relax for 10-15 minutes; the mask won't dry out. 
When time's up, cover your magnet with a plastic sleeve and then hover above your skin; drawing off the mask and with it all your skin's impurities!

Once fully removed, don't rinse your face; instead gently massage the remaining essential oils into your skin to infuse.
Use your Charcoal Magnetic Mask once a week at night for dewy, gorgeous skin.

Now that your skin is feeling soft and soothed, let's whiten that smile!
Our Ultimate Carbon Kit whiten's your smile and allows you to maintain your results with our Tooth Polish, Toothpaste and Toothbrush combo. Our 100% organic activated charcoal powder effectively whitens teeth by absorbing stain causing debris and bacteria. It removes stains without toxic chemicals, promoting good oral health and preventing bad breath.
To use our Activated Charcoal Tooth Polish, start by wetting your Bamboo Bristle Toothbrush. Take your jar of activated charcoal and tap the lid to prevent any unnecessary mess and open carefully. Gently dab your toothbrush into the jar and tap off any excess powder.
Brush teeth for 2-3 minutes using gentle, circular motions. Rinse your mouth thoroughly.

Follow up with our Activated Charcoal Toothpaste brushing for a further 2 minutes as you would your normal toothpaste. For best results, use our Activated Charcoal Tooth Polish at night for 14 days, then as needed.
Be sure to use your Toothpaste, and Toothbrush morning and night daily for optimum oral health and freshness.